Weekend Wrap: Prime Time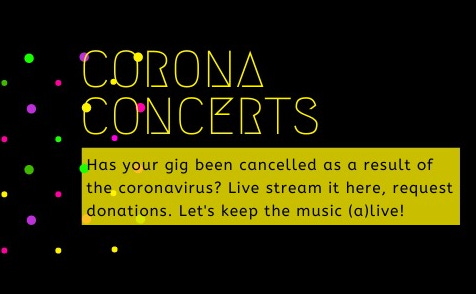 Today's word is: "Quarantstreaming."
It's what a growing number of musicians are doing now that live concerts are being banned around the world due to the coronavirus pandemic: live-streaming their performances to an audience quarantined at home.
Indie artists, who depend heavily on touring to make a living, have become the most avid quarantstreamers, but even some major artists like John Legend, Miley Cyrus, Neil Young, and Diplo have gone virtual.
For now, it's an expedient, born of necessity. But given some of the more dire predictions as to how long the current social-distancing mandates may need to last it could become a way of life for a lot of musicians.
The question is, what happens after the corona nightmare does finally end? Surely, live concerns will return to the boards, before live audiences. It's in the nature of music to draw a crowd.
But if the ban on live shows goes on long enough it's possible that live-streaming to an in-home audience could develop into a new musical outlet in its own right, reaching fans in places where a live tour doesn't stop, and providing a new monetization opportunity for artists.
Some of the quarantstreams so far have been free to view, over Instagram, YouTube and other platforms. But many artists are gravitating to Amazon-owned Twitch, which has seen a surge in viewership since the novel coronavirus struck.
Twitch started in 2011 as a platform for gamers to broadcast their gaming sessions via live-streaming. Since then it has grown into one of the most heavily-trafficked platforms on the web. So far in 2020 it is averaging 1.41 million concurrent viewers, up 32% over 2019, and nearly 55,000 concurrent channels actively streaming.
There has long been a significant demographic overlap between avid gamers and music fans. Music is also an important component of many games, and games have become a significant source of synch revenue for music artists.
Apart from its large user base, though, Twitch has a well-developed took kit for direct fan engagement as well as flexible monetization strategies for live streamers. Fans can donate cash directly to performers and the platform also supports multiple subscription models.
Since acquiring Twitch in 2015, Amazon has gradually integrated it with other parts of its business, such as Amazon Prime. Prime subscribers can use their Prime account to "tip" their favorite Twitch content creators, for instance.
Amazon Music, meanwhile, is the third largest music streaming service behind Spotify and Apple Music. Should live streaming become a standard part of artists' repertoires Amazon's ability to integrate it with its music streaming service and Prime could make Twitch the platform of choice for artists looking to engage directly with their fans — and make Amazon a more potent threat to Spotify and Apple.
---
RightsTech Headlines
No Theater? No Problem. Plays and Musicals Switch to Streaming.
As bans on public gatherings have proliferated nationwide in response to coronavirus, shows and special programs are announcing streaming plans daily. Organizations across the country are scrambling to find ways to stream productions, working through copyright issues and coming to agreements with unions, such as Actors' Equity and United Scenic Artists, to ensure the show goes on.
Source: No Theater? No Problem. Plays and Musicals Switch to Streaming.
Virtual Cannes Market Plans Begin Taking Shape Spurred by Agency-Led Initiative
An initiative led by Hollywood talent agency CAA to set up a virtual film market that would replace the Cannes Marché du Film in the event of its cancellation due to coronavirus is being welcomed by some European sales agents, and has prompted Cannes to announce its own virtual market. The initiative, which has widespread buy-in, comes as companies get antsy about the fact that the Cannes Film Festival and market won't yet confirm whether or not they will cancel.
Source: Virtual Cannes Market Plans Begin Taking Shape Spurred by Agency-Led Initiative
Macmillan Abandons Library E-book Embargo
In a surprise announcement today, Macmillan abandoned its controversial embargo on new release e-books in libraries, effective this week. "There are times in life when differences should be put aside," reads a brief memo from Macmillan CEO John Sargent addressed to librarians, authors, illustrators, and agents, revealing that Macmillan will return to the library e-book pricing model that was in effect on October 31st, 2019.
Source: Macmillan Abandons Library E-book Embargo
Katy Perry & Capitol Records Off the Hook for $2.8M 'Dark Horse' Copyright Verdict
It took much longer than expected but seven months after the conclusion of a copyright trial that stunned the music world, a California federal judge on Tuesday delivered a win to Katy Perry, Capitol Records, Lukasz "Dr. Luke" Gottwald and others who worked on the 2013 hit "Dark Horse."
Source: Katy Perry & Capitol Records Off the Hook for $2.8M 'Dark Horse' Copyright Verdict
---
Final Cuts
No bailout for Hollywood
Few industries have been hit as hard by the coronavirus as the entertainment business, as theaters and concert venues go dark and productions have shut down. But it doesn't look like any help will be coming from Washington. Despite pleas from the California delegation, there does not appear to be an appetite in Congress for an industry-specific bailout.
Self-throttling
Net neutrality rules in Europe make it illegal for ISPs to mess around with the bits flowing from any particular provider, but with the coronavirus forcing a massive shift to at-home work, Netflix, YouTube and Amazon have all voluntarily throttled their own streams to preserve bandwidth for other applications.
Don't go to meeting
Media-related conferences, festivals and fairs continue to be corona-cancelled. This week's losses: Music Business Association's Music Biz conference in Nashville and Book Expo and NY Rights Fair in New York. Still on for now: the National Association of Broadcasters' tradeshow in Las Vegas.
Protein tunes
My favorite story of the week: Researchers have figured out how to represent the chemical structure of proteins as musical scores, which can then be used to train artificial intelligence deep neural networks to devise new types of proteins. What will they think of next?